Understand Your Users and Make Your Decisions Wisely.
Do you collect the right data about your website visitors? Web analytics plays a key role in your digital growth. Understanding how users behave on your site can take you one step ahead in the digital world.
Dijilab develops custom data collection strategies for its customers, analyzes the data and improves your performance by using its actionable insights in all marketing channels.
Data Collection
The data collection is a process which the web analyst collects the user data from all the relevant sources to find answers to increase the sales. Dijilab, creates and implements custom data collection strategies for its clients.
Data Analysis
Data analysis defined as a process of cleaning, transforming, and modeling data to discover useful information for business decision-making. Dijilab helps to pick useful information from data and taking the decision based upon the data analysis.
Tag Management
Tag Management is a system which helps simplifiying digital properties for users to implement, manage, and maintain tags on their web interface. It provides a foundation for your organization's data collection and manages demands while helping to drive better customer experiences.
Ecommerce Integrations
E-Commerce integration is a data transfer between your E-Commerce platform and web analytics platforms.
Conversion Rate Optimization
Conversion rate optimization is the process of increasing the percentage of website visitors that convert on your site. Dijilab, analyzes your site and find potential optimizations that will improve your overall performance.
A/B Testing
A/B testing is the act of running a simultaneous experiment between two or more variants of a page to see which one performs the best. Digilab helps you to explore the most optimal website version by testing multiple variables.
API Solutions
Dijilab helps to build custom dashboard to display analytics data, automates complex reporting tasks and integrates your date with other business applications.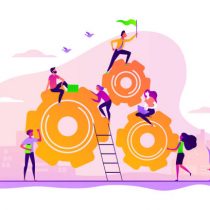 1
Dedicated Account Manager